SharePoint Framework: Set Custom Icons for Client Side Webparts
Every Client Side Webpart within a SharePoint Framework App package can have an icon which is shown in the toolbox when we add a webpart to the modern page.
Following properties can be used to set a custom icon
iconImageUrl: Using a custom image
officeFabricIconFontName: Using a font icon
Client-Side Web Part icon using an image
Open the '[your webpart name].manifest.json' file from src/webparts/[your webpart name]. And replace the officeFabricIconFontName with iconImageUrl. This expects a path to an image of 38X38 dimension. At this time of writing this article only absolute URLs are accepted for this property. When its not possible to specify an absolute URL, we can encode an image into base 64 format and provide the encoded string to this property.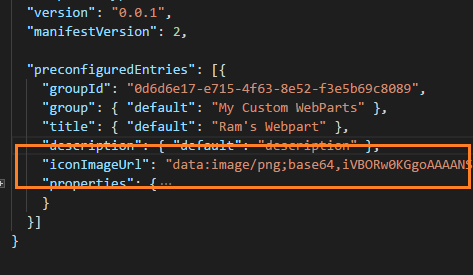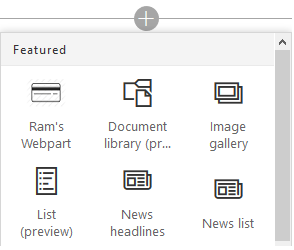 Client-Side Web Part icon using a font icon
This is used by default when you create a SharePoint Framework webpart solution. This property is set to "Page" and the page icon appears by default to all the custom webparts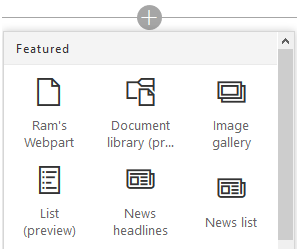 Following are the possible values for this property
Add
AddGroup
AlignCenter
AlignLeft
AlignRight
Attach
Back
BackToWindow
BlowingSnow
Bold
BulletedList
Calendar
Camera
Cancel
Chart
CheckMark
ChevronLeft
ChevronRight
CirclePlus
Clear
ClearFormatting
ClearNight
CloudWeather
Cloudy
Completed
CompletedSolid
Delete
DocLibrary
Duststorm
Edit
EditMirrored
Embed
Emoji2
ExcelLogo
FacebookLogo
FavoriteStar
FavoriteStarFill
Filter
Financial
Fog
Folder
FolderOpen
Font
FontStyleSerif
Forward
Freezing
Frigid
FullScreen
Globe
Group
HailDay
HailNight
Header
Italic
Link
Message
MobileSelected
More
MultiSelect
Nav2DMapView
News
NumberedList
OfficeVideoLogo
OneNoteLogo
OpenFile
OpenWith
Org
Page
PageAdd
PartlyCloudyDay
PartlyCloudyNight
Photo2
Photo2Add
Photo2Remove
PhotoCollection
Picture
Play
PowerApps
PowerBILogo
PowerPointLogo
Precipitation
Preview
Rain
RainShowersDay
RainShowersNight
RainSnow
Recent
Refresh
Remove
RemoveLink
Reshare
Ribbon
RightDoubleQuote
Save
Search
Settings
Share
SharepointLogo
SIPMove
Snow
SnowShowerDay
SnowShowerNight
Squalls
StackIndicator
Sunny
SwayLogo
Sync
System
Tablet
TabletSelected
Teamwork
Thunderstorms
Tiles
TVMonitorSelected
TwitterLogo
Underline
Unfavorite
Video
View
VisioLogo
Webcam
WordLogo
WorldClock
YammerLogo
Zoom
ZoomIn
ZoomOut
When both the properties are specified, the property officeFabricIconFontName takes the precedence and iconImageUrl is ignored.
We can also specify an App Icon for a SharePoint Framework App Package which is shown in the Classic view of site contents page. Check the steps on my other post - SharePoint Framework: Set Custom App Icon